Amrita Vidyalayam, Navi Mumbai is a co-educational English Medium Senior Secondary School, affiliated to CBSE and managed by Mata Amritanandamayi Math. It is located at Plot No. 4 in Sector 25, near Sanpada-Juinagar Node in Juinagar (w). The school is a 3 storeyed building situated on 3801.15 square meters of land.
Computer education initiates our young students into the captivating world of computing and introduces them to its wide and ever-increasing range of applications.
We commence computer education from lower classes itself. We make sure that high-end machines are available for each child. Our computer labs are spacious with the latest computers. In addition, we have provisions for restricted free internet browsing.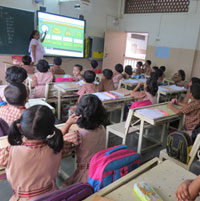 In today's world, technology is changing at a very fast pace. Our school has a well equipped audio-visual set-up. It serves as a valuable educational aid and multimedia facility, acting as a catalyst in not only creating interest, but also in increasing the comprehension of the students in the basic concepts of various disciplines.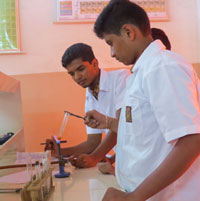 Our Amrita Vidyalayam has well equipped science labs, and we focus mainly on hands-on practical work so that students may get a better insight into scientific theories. This enhances the inherent inquisitiveness of the student and energizes him to examine uncharted paths.
We have three science labs, one each for Physics, Chemistry and Biology. In these labs, we have the most modern scientific equipments and teaching aids which reflect the high standard of education set by us.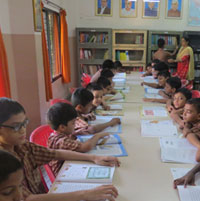 In our library, we have a large collection of books on a wide variety of subjects. In addition to this, we also have rare reference books that help to enhance the knowledge of the students.
Our school promotes reading, and encourages students to cultivate a reading habit which in turn can help them to augment their knowledge and language skills.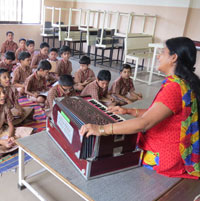 The school provides ample opportunities for students with an aptitude for music. Professional tutors and the availability of different musical instruments help the students to pursue their interests with ease.
Indoor and Outdoor Sports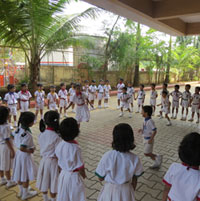 At any time of the school, the quadrangle and school ground is occupied by children playing various sports. Apart from Basketball, Volleyball, Badminton, Table Tennis etc., contact sports such as Kabaddi and Kho-Kho are favourites amongst the students. Experienced coaches train the students to compete at District, State and National levels. The school boasts of National Level players in Volleyball.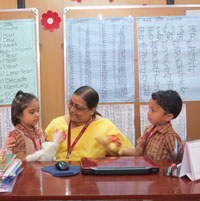 We have a Play 'N' Learn room for Pre Primary kids. Here, the children are allowed to engage in mind games freely and simultaneously develop a reading habit. They are guided in a loving way by caring teachers to ensure their proper development.
Other Facilities and Provisions
INFRASTRUCTURE DETAILS
Dated : 07/04/2021
TOTAL NUMBER OF SITES OF SCHOOL
1
TOTAL NUMBER OF BUILDING BLOCKS
1
TOTAL AREA OF SCHOOL IN SQUARE METRES
7300
TOTAL NUMBER OF PLAYGROUNDS
1
TOTAL AREA OF PLAYGROUND IN SQUARE METRES
3801
TOTAL NUMBER OF ROOMS
69
TOTAL NUMBER OF SMALL-SIZED ROOMS
11
TOTAL NUMBER OF MEDIUM-SIZED ROOMS
45
TOTAL NUMBER OF LARGE-SIZED ROOMS
8
TOTAL NUMBER OF MALE REST ROOM
1
TOTAL NUMBER OF FEMALE REST ROOM
4
NUMBER OF GIRLS' TOILET
28
NUMBER OF BOYS' TOILET
16
NUMBER OF TOILETS FOR DIFFERENTLY ABLED PERSONS
8
NUMBER OF WASHROOMS FOR FEMALE STAFF
8
NUMBER OF WASHROOMS FOR MALE STAFF
8
TOTAL NUMBER OF LIBRARIES
1
NUMBER OF LABORATORIES
5
TOTAL NUMBER OF STUDENT CANTEENS
1
TOTAL NUMBER OF STAFF CANTEENS
1
NUMBER OF WATER PURIFIERS/ROs
9
NUMBER OF AUDITORIUMS
1
NUMBER OF LIFTS/ELEVATORS
0
NUMBER OF DIGITAL CLASSROOMS
42
DOES THE SCHOOL HAS HOSTEL FACILITY
NO
DOES THE SCHOOL HAS GUARDS EMPLOYED FOR SAFETY
YES
DOES THE SCHOOL HAS FIRE EXTINGUISHERS
YES
DOES THE SCHOOL HAS SPRINKLERS
NO
DOES THE SCHOOL HAS CCTV CAMERAS INSTALLED?
YES
IS THE SCHOOL EXAMINATION CENTER OF CBSE?
NO
TOTAL NUMBER OF COMPUTERS IN ALL COMPUTER LAB
118
DOES THE SCHOOL HAS WEB SERVERS
NO
DOES THE SCHOOL HAS A BOUNDARY WALL?
YES
IS YOUR SCHOOL BARRIER FREE/ HAS RAMPS?
NO
DOES THE SCHOOL HAS CLINIC FACILITY?
NO
DOES THE SCHOOL HAS A STRONG ROOM?
NO
DOES THE SCHOOL HAS A GYMNASIUM?
NO
IS YOUR SCHOOL WI-FI ENABLED?
NO
PROVISION OF WEB BASED LEARNING PROGRAMS?
NO
DOES THE SCHOOL HAS FIRE ALARMS?
YES
DOES THE SCHOOL HAS SPORTS FACILITY?
YES
DOES THE SCHOOL HAS INDOOR GAMES FACILITY?
YES
DOES THE SCHOOL HAS A SWIMMING POOL?
NO
DOES THE SCHOOL HAS DANCE/MUSIC FACILITY?
YES
TOTAL NUMBER OF BUSES OWNED
0
TOTAL NUMBER OF BUSES HIRED
0
TOTAL NUMBER OF VANS/MATADORS
0
TOTAL NUMBER OF DRIVERS
0
NUMBER OF FEMALE ATTENDANTS FOR BUS DUTY
0
NUMBER OF ACTIVITY ROOMS
2
NAME OF TRANSPORT COORDINATOR
NA
TRANSPORT COORDINATOR CONTACT
NA