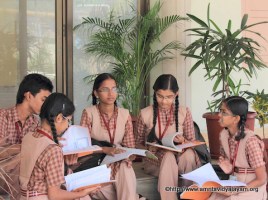 Established in the year 2001, Amrita Vidyalayam is a Sr. Secondary English Medium Co-education school affiliated to Central Board of Secondary Education(CBSE), New Delhi up to the Senior Secondary Level Examinations (1.4.2015 to 31.3.2020, CBSE Affiliation No. 1130190), and is one among the 57 schools throughout India managed by Mata Amritanandamayi Math. We follow a system of continuous evaluation that covers both the scholastic and non-scholastic aspects of a students' growth.
Our curriculum adds qualitative content beyond the prescribed syllabus; maximizes students' progress in intellectual, spiritual, emotional, physical, cultural and artistic fields; emphasizes activity-based and experiential learning and focuses on self-exploration and learning through co-scholastic activities and frequent educational outings. Ours is a consciously and thoughtfully designed all-inclusive curriculum.
Contemporary education is enhanced with insights from the ancient art and science of yoga and meditation. High moral and spiritual values are inculcated in the students through the integrated curriculum. In an attempt to reach out education to financially vulnerable students, the school has not only adopted the RTE policy in full earnest but also extends financial help to many deserving students.
Evaluation is based on comprehensive assessment of performance throughout the year. The various fields are class response, lab activity and project work, participation in cultural activities, personality, response and sensitivity to environmental and social issues. With a consistent track record of 100% pass percentage every year by our AISSE students, Amrita Vidyalayam strives to enrich the lives of the students' in a holistic way. Keeping in mind the ever changing needs of the millennial generation, the school's vision is to not only empower the children to meet life's challenges but to also inculcate in them a sense of social responsibility.